Most people who are new to nudism are keenly aware that they haven't yet had many of the nudist experiences that others talk about and enjoy. They wonder, what makes someone a nudist? What do I have to do before I can call myself that?
It would be easier, maybe, if there was a checklist - if you've done six of the following ten things, you might already be a nudist! But that's not the way it works.
As a new nudist, you might never have been nude in public, in front of others. Or you might have been to a nude beach, completely anonymously, or you might have been to a resort, but just once or twice, and on your own.
Even more commonly for new and curious nudists, you might never have been out of your house nude. Maybe you just hang out in your own bedroom nude, with the door locked and a robe close to hand if someone knocks. Or perhaps you lurk around nude late at night, when no one else is around.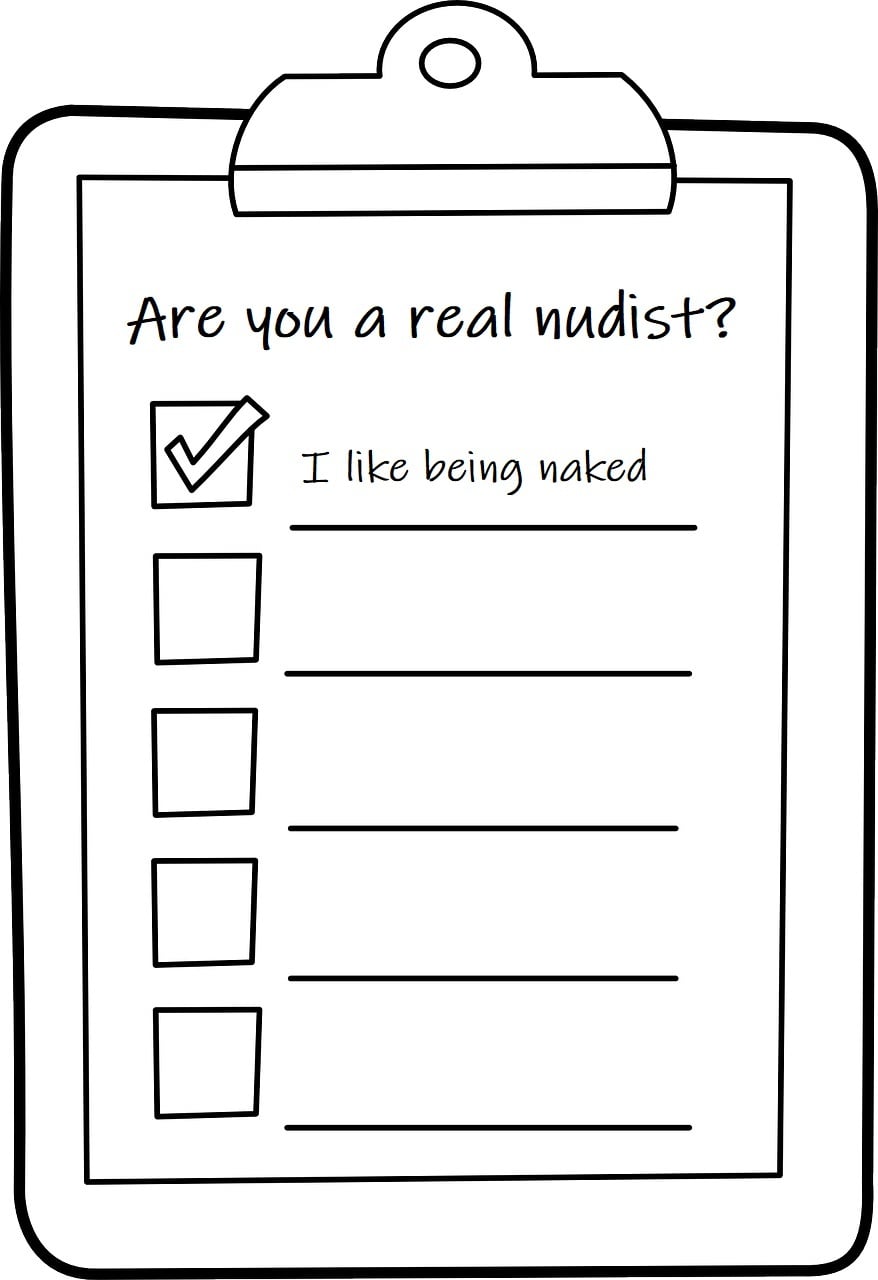 You might have been outside nude. Perhaps you know a secret, secluded bit of nature where you can be confident no one will find you naked. Or maybe you quietly slip out the back door at night, stash your clothes near the step, and go for a little nude walk.
But maybe you have been out there. You've skinny-dipped with some friends (and want to do it some more). You've visited a local nude beach once or twice. You might have even gone to a local nudist club or event (though you aren't a member yet).
So what do you have to do to become a real, live nudist? How do you unlock that one, all-important achievement?
It's easy.
It isn't whether you like being nude all the time. It isn't whether you like being nude with others. There are no barriers get over, no nudity high score you have to beat, no qualifications, no checklist to complete.
If you like being nude, you're a nudist.
Are you really a nudist?
Yes. You are if you want to be.
Now go be nude!
Share your thoughts
Do you consider yourself a "real" nudist? What made you get to this point? If you don't consider yourself to be a nudist, but want to be, what's holding you back? Let me know in the comments!