With its relatively liberal policies on nudity, twitter stands alone as the most popular nudist-friendly social media platform out there these days. You can post nude photos, you can talk about nudity and nudism, and you can interact with other nudists openly.
Any of those things could see your posts removed and even your account banned on Facebook, Instagram, Tumblr, and most other social media sites. There are a few social media sites, like MeWe, that are open to nudist content, but they tend to have far fewer users.
Twitter stands alone as a destination for nudists. But a recent trend there has started to make it a less warm and welcoming place for nudists - and puts a serious damper on our connecting and socializing together.
That trend: blocking people.
Why Block?
There are plenty of good reasons to block people on twitter; it can be a toxic place.
Women - especially nudist women - are often (if not constantly) harassed, criticized, propositioned, judged, and vilified, and receive numerous creepy DMs and sexually-laden replies to every tweet. Many of my female nudist friends have reported on twitter blocking literally dozens of other users daily.
There are also people who come in to give unwanted and useless opinions. I myself don't need to see more than one "Y'all are crazy" or "You're going to hell for immodesty" comment before I hit the block button.
There are also users who will misuse others' photos - reposting them without attributing them and without permission, often from accounts that are just roundups of nude photos with a single theme. I always block them too.
Finally, there are those with whom I disagree with so fundamentally that I don't want to have anything to do with them - people who post racist and sexist "jokes" fall into this category. They probably don't even know I've blocked them, but I don't care - I want no association between my account and theirs.
My Policy
In general, though, unless a twitter user is being actively harmful, I don't block them. They might have a feed full of extremely sexually explicit images and videos; they might have political views that are diametrically opposed to my own. But I won't block them.
I also won't follow them. Despite being a twitter account primarily about nudism, there are very few nude photos as I scroll down my feed. Most of the photos that appear are the header images for articles and blog posts, too. I just don't follow photo-centric accounts.
At one time I was much more liberal than I am now. If someone followed me, I followed them back. If someone had an account that seemed connected with nudism, I followed them. But as time went on I've become more discerning, and I've even gone through my list of follows from time to time and pruned them.
So my policy is: block people who are actively problematic; follow people who are active and positive about nudism; and more or less ignore everyone else.
Purity Tests
Not everyone shares my policy approach - which is their right, of course.
Numerous accounts have text in their bio to the effect that "anyone posting, following, or liking porn will be blocked". It's nice of them to give a warning! I don't typically worry about these warnings, because my intentions on twitter are clear. I'm about nudism, not porn.
Something does bother me about this, though: it seems like a purity test for nudism. It's not that I condone the sexualization of nudity. But it does seem to require that a person - who might have a lot of different reasons for being on twitter - have no impure, non-nudist content in their feed.
That approach also tends to be less inclusive. If you demand that everyone who follows you is well-versed in the principles of nudism, you aren't going to convince anyone who isn't already a nudist to give it a try.
One other possibility - what if someone follows an adult performer, erotic photographer, nude model, or exotic dancer specifically to support and empower them? To block the artist's followers so severely is unfair and judgemental. It can be very difficult to know why anyone follows anyone else.
Policy Problems
Not everyone is trying to attract new nudists, of course. But there's one area where blocking is legitimately concerning: when the blocker is a naturist organization or destination.
This is what made me first start to think about this topic: an AANR regional account blocked me. This came as a surprise: I didn't know of anything in my twitter history that offended anyone, especially a nudist organization. To make matters worse, they were quite active on twitter, and I would often find replies and retweets in my feed that I couldn't access.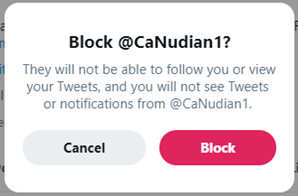 Eventually I sought out the person who ran the account, and asked why I was blocked; after a brief back-and-forth, I was unblocked. But that person noted that I followed an account that was deemed inappropriate.
I looked up the account, and yes, it wasn't the kind of account that I normally follow! I unfollowed it immediately, for my own sake, not for AANR's. (It was probably one of those accounts I followed early on, because they followed me first.) But it left me wondering, why had I been scrutinized so closely and judged too harshly to even follow an AANR account - an organization I'm actually a member of?
I don't blame the organization, either. They made the judgement they felt they needed to, at that time. The problem is that there's no public set of rules, no policy, that gives their criteria for followers. In a way, those "Porn followers will be BLOCKED!" accounts are doing a better job of stating their policies.
Opening the Way Forward
Two solutions are needed here.
The first is that organizations and businesses need to spend time considering, and writing down, their policies. Social media grew quickly; the preparation and thinking that used to go into communications and messaging were neglected in the rush to keep up with Facebook, Twitter, and the like. But it's a permanent fixture for many organizations, including naturist organizations, so it's time to incorporate the social media stance of an organization into its policies.
(Some organization executives might feel they don't have the knowledge to do this; here's a great opportunity to involve some younger members, don't you think?)
The second is that naturists who are interested in bringing new people into the fold - whether they are organizations, businesses, or just private enthusiasts like me - need to have an as-open-as-possible approach to their communications. They don't need to tolerate abuse and negativity, of course. But the approach of blocking followers because they don't quite meet one's high standards has to end.
Social media presents an astounding opportunity for naturists, who once had to hide in heavily-treed lots far from civilization just to enjoy being nude together.
Closing doors and excluding people does not help our movement grow, especially among younger people - the demographic that most naturists recognize as the most important one for our future. Let's unblock, and join the conversation.
Share your thoughts...
Are you active on social media? Who do you block, and who blocks you? What's your approach? Tell me in the comments!